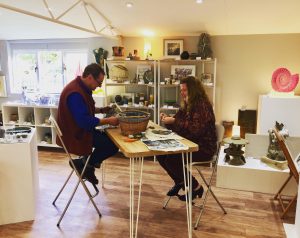 At the very end of October last year, the newly formed Buckinghamshire Craft Guild opened the doors of it's beautiful shop/gallery space at Layby Farm, Stoke Mandeville for the very first time. I consider myself fortunate to have been invited to be a founder member of the guild and the first six months have been exciting as we have embarked on this new adventure together. The guild shop is a wonderful space where the public can come and browse the work of over 30 local artists/makers. What makes it really special though, is that every day there are different artists working at the shop, demonstrating their skills and talking to visitors about their inspirations and processes. It's a unique opportunity to interact with the makers themselves and maybe even to buy something directly from the person who made it.
From a personal point of view, I have enjoyed my days stewarding and demonstrating hugely. Most of all, I have loved meeting and getting to know the other guild members and watching them work. There are potters, stone masons, jewellers, printmakers, glass artists and more. Chatting to them and gaining an insight into their backgrounds, working methods, techniques etc has been so interesting and it is a real privilege to eaves drop on them demonstrating their skills to the guild visitors. Some of the members run their own workshops and classes which might tempt you once you've seen a glimpse of them at work.
The work in the shop is refreshed regularly so that there are always new things to see. Visitors are welcome whether they are serious buyers or just curious browsers.
The guild shop is situated at Layby Farm in Stoke Mandeville, a site which also hosts Obsidian Art, Freya Jones Fibre Craft, Ros Long's 'By Hand Books' and Fabric HQ, making it a great destination for visitors interested in art and crafts. It's open tues-sat 10-4 and Sundays 12-4. For information on which artists will be at the gallery on any given day it's best to check social media where updated rotas will be posted regularly. You can follow the guild on Facebook or Instagram as 'Buckinghamshire Craft Guild'
The guild shop is at:
Buckinghamshire Craft Guild Shop
Layby Farm, Old Risborough Road, Stoke Mandeville, Bucks HP22 5JX
01296 821218
My upcoming days at the guild are Wednesday 11th April, Sunday 22nd April, Friday 4th May, Thursday 10th May & Sunday 27th May. Hope to see some of you there.